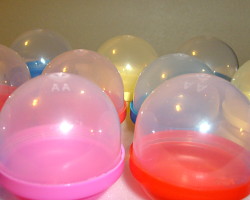 ...wanting to buy pointless crap from the quarter (now $0.50) machines at grocery stores and restaurants. There's something that sucks me into some of those little trinkets and makes me smile like a dork.
I am especially fond of the fake tatoos, stickers, glowing things and goofy jewelry. (and if they still had slime machines, I would certainly buy some of the goo and freak people out with it for fun)

I remember getting all excited about which machine to pick as a kid. J and I went out to lunch with a friend and her daughters a few weeks ago and it was so much fun watching them open the little plastic egg enclosed treasures.

Lord help me if I ever have kids. They are going to be little junk machine junkies like me!
I think I'll start a new blog feature, the Junk Machine treasure hunt. I can post pics of what I find and if anyone else finds anything good, they better share, too!

Hey, it's better thank smoking or boozing it up as a dorky pasttime! ;-)